Join Us For Our 15th Annual
Lustgarten Foundation
Albany Capital District
Walk for Pancreatic Cancer Research
Sunday, September 16th, 2018
Elm Ave. Town Park, Delmar, NY
Congratulations to everyone who  participated in the 2017 Walk!
WE RAISED $141,800!!
Join us at the 2018 Walk

, where we expect to surpass the

$1,000,000

mark

for local funds raised over the past 15 years!
100% of all funds raised for
Lustgarten Foundation
goes directly to PC research.
To register for the Walk or to donate, click here.
---
Golf Outing was fantastic!
The
Rensselaer Honda

Tom Gorman Memorial Golf Outing

took place at the Fairways of Halfmoon in Mechanicville, NY on Thursday, June 14th, 2018.  Money raised for Lustgarten Foundation was a record breaking $25,225!
---
Walk Pictures
Many thanks to our three talented photographers:  Jeff Fox, David Piper and John Sullivan.
You can see the walk pics on Facebook.  Click here. 
---

Music by Code Blue Albany
Once again, the Capital District's favorite, Code Blue Albany, will join us at the Sept 2018 Walk, covering songs from the 60's, 70's and 80's.  What a fantastic group! 
---
The Puppet People of Schenectady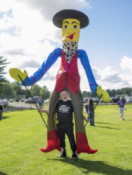 They're alive!   The magic and wonder of puppetry came back to visit at our Walk.  Mark Carrigan created and moved these enormous puppets around the area, and as we walked.
---
Here's A Short Video of The 2017 Walk
(Many thanks to videographer, Joe Calderone).
---
 

TV Interviews
On Tuesday, Aug 15th, Ann Parillo (Schenectady Today Show), interviewed Shari & Neil Piper, Therese O'Callaghan and Sue Patterson
On Sunday, Aug 20th, 2017, Shari Piper, Sue Patterson and Therese O'Callaghan were interviewed by Phil Bayly of WNYT-TV (Channel 13) News on Saturday mornings FORUM 13.  To see the interview, click here.
 
---
Sponsorship:
For 2018 sponsorship information, click here to open and print an application form, solicitation letter and presentation file.
Feel free to email us at info@albanypcrwalk.org with potential sponsors and we'll gladly contact them to discuss opportunities.
Thanks to ALL our Walk sponsors, and special thanks to Rensselaer Honda and  St. Peter's Health Partners Medical Assoc. in Hepatobiliary & Pancreatic Surgery, Ostroff Associates and Albany Gastroenterology Associates.
Click here to see a list of our 2017 Walk Sponsors.
---
Additional Supporting Walk Events
— Dinner at Maggies Sports Bar –

June 13th, 2018

, starting at 5:00 pm.  (We raised $1100!)

— Lustgarten Day at

Saratoga Race Track

–

Saturday, August 18th

.  One of the races will be earmarked for Lustgarten Foundation.  Wait, there's more – at 11:30 am more than twenty Trainers will be available to sign autographs for donations at the Paramutuel windows on the concourse.  The signing is in memory of Trainer Dominic Galluscio, who passed away at age 55 after gallantly battling pancreatic cancer.  Don't miss it!
(Thank you to the Thoroughbred Horsemen's Association and to NYRA).
Are you planning a local event that would support Lustgarten?  Please let us know, and we'll post it – send email to info@albanypcrwalk.org.
---
2015 Walk Video
 Here's a glimpse of our 2015 Walk:

(Thanks to Joe Calderone, videographer, for providing this).
---
Information about pancreatic cancer:
CLICK HERE for Info about PC | Click here for Lustgarten Quick Facts