SAVE THE DATE
The 2016

13th

 Annual
Albany Capital District
"Walk for Hope"
for Pancreatic Cancer Research
  >>  Sunday, September 11th, 2016  <<


(Rain or Shine)



Bethlehem Town Park, Elm Ave., Delmar, NY
Registration:  8:00 am    Walk begins:  10:15 am
Event ends:  Noon
1.2 – 2.4 mile walk
Child/stroller friendly; pet friendly, handicap accessible,
Pick-a-Prize Auction, 50/50 raffle, special-item raffles,
face art, purple hair extensions, Schenectady Puppet People,
free professional massages, Pet Parade,
donuts, cider, coffee, tea, water.
---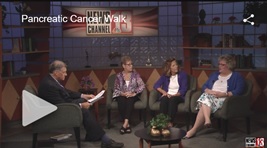 Shari Piper, along with Sue Patterson and Therese O'Calloghan were interviewed by Phil Bayly of WNYT-TV (Channel 13) news on Saturday morning's FORUM 13.  To see the interview, click here.
---



Music by Code Blue Albany
Once again, the Capital District favorite,

Code Blue Albany,

 will be joining us for the Sep 2016 Walk, covering songs from the 60's, 70's and 80's.  Join us!
---
The Puppet People of Schenectady

They're alive!
The magic and wonder of puppetry will be back to visit at our Walk.
Come by and say hi to Mark and Michelle Carrigan as they move these enormous puppets among the walkers.
---
 The Golf Outing was a blast
Rensselaer Honda

again hosted the Tom Gorman Memorial Golf Outing in June, held at the Fairways Golf Course in Half Moon, NY, to benefit Lustgarten Foundation.  The generosity of the golfers resulted in a record-breaking total for the day!  And 100% of the proceeds will be used for pancreatic cancer research funded by Lustgarten Foundation.
---
"Dance Away Pancreatic Cancer"
We had a fantastic time on Saturday evening, March 19th, 2016 at our gala event honoring Dr. Jason Heckman, Dr. Rebecca Keim, and Mr. Andy James.
The event raised over

$12,700

!
Thank you to all who participated.
You can see pictures of the gala on Facebook (thanks to John Sullivan and David Piper) by clicking here.
---
Walk Video
Last summer, we had over 450 participants and raised over

$94,500

!
Here's a glimpse of our 2015 Walk:
(Thanks to Joe Calderone, videographer par excellence, for providing this).
---
2015 pictures have been posted on Facebook.  Click these links to see Candid pics, Pet pics, Team pics and Walk pics.
Many thanks to our three very talented photographers:
Michael Buckley, Jeff Fox, and Linda Heim.
---
Sponsorship:
Thanks to ALL our Walk sponsors, and special thanks to Rensselaer Honda and  St. Peter's Health Partners Medical Assoc. in Hepatobiliary & Pancreatic Surgery, for being long-time Platinum and Diamond sponsors.
Click here to see a list of our 2016 Walk Sponsors.

For sponsorship information, click here to open and print an application form, solicitation letter and presentation file
.
Feel free to email us at
info@albanypcrwalk.org
with potential sponsors and we'll gladly contact them to discuss opportunities.
---
Information about pancreatic cancer:
CLICK HERE for Info about PC | Click here for Lustgarten Quick Facts